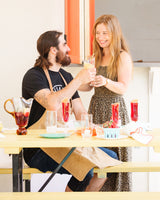 Locally Inspired Quality Syrups
Having a last name that means yeast, a passion for quality drinks is in our blood. 
Crafted in small batches in Niagara, Canada, KVAS FBC's mission is to provide bar-quality syrups and garnishes that are simple to use, all natural and full of flavour.
Our goal is to provide anyone with the confidence to make exceptional alcoholic or non-alcoholic cocktails at home, with only 2 or 3 ingredients needed!
Cheers. 
Amy & Zac Kvas
Spice up your cocktail game with local flavour. Perfect for alc, non-alc beverages and coffee!